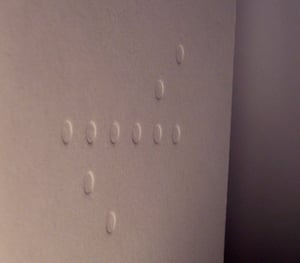 $

17.50
"From the brilliant mind of Chris Weisman comes a clever and intriguing book about shape exploration on the guitar, embodying a perspective that for me is both fresh and useful."
-Kurt Rosenwinkel
The Radical Readout Press is proud to present Chris Weisman's Nonmusical Patterns and their Musical Uses (for Guitar in Standard Tuning). Nonmusical Patterns is a hand-made, perfect-bound softback with letterpressed cover containing one hundred geometric patterns overlaid to the fretboard of a guitar in standard tuning. Weisman, a performer, recording artist and music teacher devised the selected patterns with their potential as creative spurs for the improvising guitarist in mind. Nonmusical Patterns is an unorthodox fusion of musical and visual esthetic concerns and is ultimately an act of conceptual synesthesia whose practical result, in the hands of the improvising guitarist, is musical and artistic risk-taking. As such, the work is in the tradition of George Brecht's Water Yam, Yoko Ono's Grapefruit or Brian Eno and Peter Schmidt's Oblique Strategies and may appeal as much to those interested in conceptual art and artists' books as it will to the improviser and theoretician.
Nonmusical Patterns and their Musical Uses (for Guitar in Standard Tuning) is available directly from the Radical Readout Press for $17.50 postage paid anywhere in the US.
Chris Weisman is a songwriter, improviser, and tape artist living in Brattleboro, Vermont. Multitrack cassette recording has been his primary medium since 1991 when he and Ben Stamper borrowed their music teacher's 4-track and started recording under the name CLOV. Since then, Weisman has recorded hundreds of songs that can be purchased via his Website (many of which are also available on various cassette and CD releases). Weisman has also collaborated with Autumn Records' Greg Davis on the album Northern Songs and was an original member of the Brattleboro group Happy Birthday, whose debut LP was released in 2010 on Sub Pop. His latest release is the double CD Transparency available from Autumn Records.